Restaurant Experience
LUNCH & BALI BED MENU
Introducing Our New and Innovative Lunch Menu at Bikini Beach Looking for a refreshing and contemporary lunch experience? Our quick and lighter lunch menu is designed for Bali bed, bar, or restaurant-style dining. Savour our signature Bikini sushi, prepared fresh daily in-house, or indulge in our small sharing plates, delectable salads, or even big plates. The choice is yours!
DINNER STEAK & SEAFOOD MENU
Experience a night of delectable cocktails, carefully selected wines, and champagne, paired with excellent fine dining service.
Our exceptional chefs only serve the finest cuts of meat like Fillet, Tomahawk, and Chateaubriand, which are carefully butchered in-house, complemented by our extensive fresh seafood offering.
With panoramic sea views, you're guaranteed a memorable dining experience.
Weekly Reasons to Visit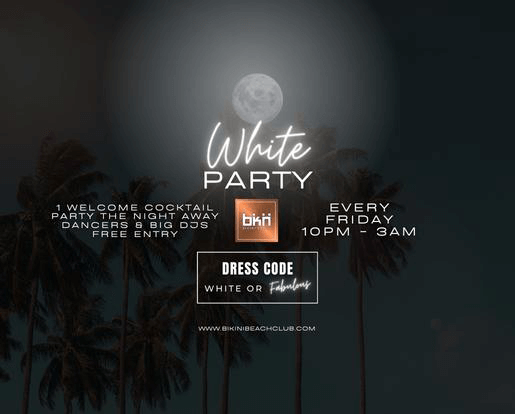 At our White Party expect an event, that will guarantee you remember your Friday night at Bikini Beach for years to come. Around 10pm, people get tipsy, our DJs …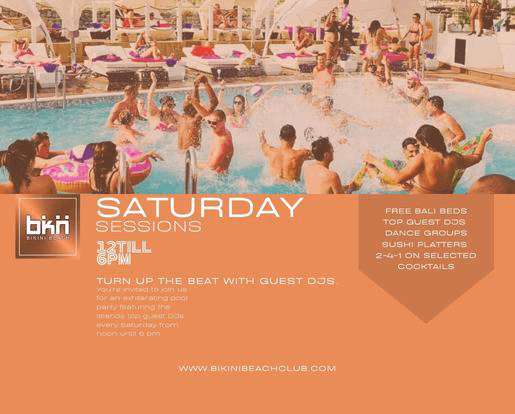 You're invited to join us for an exhilarating pool party featuring the Islands top guest DJs, every Saturday from noon until 6 pm. FREE BALI BEDS TOP GUEST DJS …
The only way to spend your Sunday is to spend it at Bikini Beach. Let the drinks flow, enjoy our fine dining menu, live entertainment and the view is incredible. …