VIP Experience
CLIMB THE STAIRWAY TO HEAVEN FOR THE ULTIMATE VIP EXPERIENCE
Relax and Unwind on our Luxurious Heaven Bali Beds While Enjoying the Sal Island Ambience Take a break from the hustle and bustle of everyday life and sink into one of our heavenly Bali beds. Indulge in the sounds of Sal Island's top DJs and international headline artists, while taking in the breath-taking views. At night, the pool transforms into a magical setting perfect for socialising, sipping cocktails, enjoying dinner, and evening entertainment.
VIP Heaven Bali Beds
Why not sit back and unwind on one of our luxurious Heaven Bali Beds, soak up the beats and the vibes brought to you by Sal Island top DJs and international and headline artists, as well as enjoy the inspiring view.
Illuminated at night, the pool takes on another character as a wonderful setting for socialising, cocktails, dinner and evening entertainment.
Weekly Reasons to Visit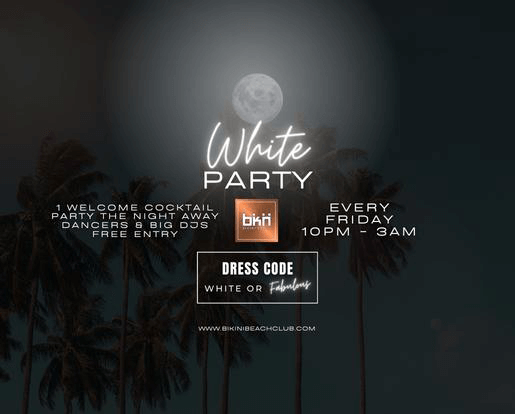 At our White Party expect an event, that will guarantee you remember your Friday night at Bikini Beach for years to come. Around 10pm, people get tipsy, our DJs …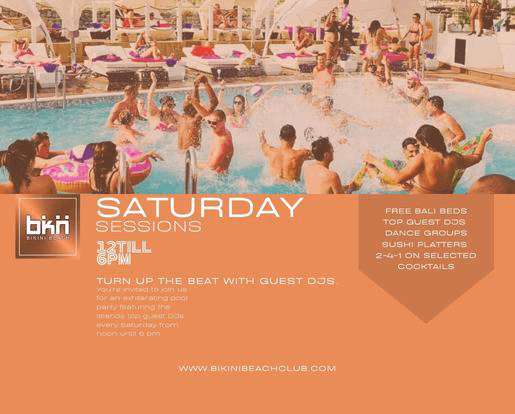 You're invited to join us for an exhilarating pool party featuring the Islands top guest DJs, every Saturday from noon until 6 pm. FREE BALI BEDS TOP GUEST DJS …
The only way to spend your Sunday is to spend it at Bikini Beach. Let the drinks flow, enjoy our fine dining menu, live entertainment and the view is incredible. …